Eliza Anyangwe – Community Online Coordinator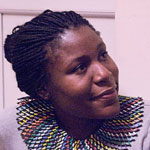 Eliza Anyangwe is a Cameroon-born, London-based writer. By day she manages the content and social networks for the Guardian Higher Education Network and then spends the rest of her time documenting Africa's representation in the media and in the arts through her blog Product Of My Past.
In previous lives, Eliza has been a social entrepreneur, promoting sustainability in fashion; the west-African cotton project officer for environmental NGO PAN UK, writer on development issues for the Guardian Katine Project and jack of all trades during an internship at Action Against Hunger UK.
She has a voracious appetite for knowledge with interests in ICT4D; social media and governance; media and development; Africa and the fashion industry; and of course, illustrated novels (that's comic books to you and me)