Emmanuel Jal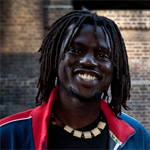 Patron, Africa Gathering
Emmanuel Jal (born ca. 1980), a former child soldier in Sudan, has won worldwide acclaim for his unique style of hip hop music infused with messages of peace and reconciliation. Emmanuel was taken from his family home in 1987, at the age of seven, and sent to fight with the SPLA rebel army in Sudan's bloody civil war. For nearly five years, Emmanuel carried and slept next to an AK-47 that was taller than him. He was sent to Ethiopia and Southern Sudan to fight with thousands of other children that were uprooted from their villages.
Emmanuel has been featured in Time magazine, USA Today, The Times, The Guardian, the Washington Post, CNN, Fox, VOA, BBC, MTV, and Sky amongst many other news outlets. As a spokesman for Amnesty International and Oxfam, Emmanuel has held two press briefings at the United Nations in New York making him the first hip hop artist to do so. He also addressed congressional staffers on Capitol Hill about the plight of the people of Darfur and the pressing need for an international response to stop the genocide. Emmanuel has won an American Gospel Award, as well as a community service award in Kenya for his work promoting peace among youth. He has also recently been nominated for the MTVu Good Woodie Award given to activists for their commitments to social causes affecting the greatest change in the world.
His music has been featured in three ER episodes, the documentary God Grew Tired of Us, and most recently in the feature film Blood Diamond starring Leonardo DiCaprio and Djimon Housoun. Emmanuel is featured and performs in the musically focused film, Call + Response, which debuted October 10th, highlighting the problem of modern slavery around the globe. The film also features Ashley Judd, Julia Ormond, Daryl Hannah, Natasha Bedingfield and Moby.
His autobiography, War Child: A Child Soldier's Story, will be released by St. Martins Press in February 2009. His most recent album, War Child was released on 12 May 2008 on the Sonic360 label (distributed by ADA Global) with additional production and mix by Neal Pogue (who had done work for various major artists including Outkast, Talib Kweli, and Pharoahe Monch).
Emmanuel recently performed at The V Festival in the UK, the Greenbelt Festival, and the first Black Ball in the UK for Keep a Child Alive (Alicia Keys foundation). He met with Nelson Mandela and performed at the tribute concert for his 90th birthday at Hyde Park in London. Emmanuel is currently Building a School in Sudan!