Kimberly Rowan- Ambassador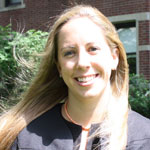 Kimberly Rowan is a Consultant within Deloitte's Strategy and Operations Practice. Her experiences include integration strategy in both the Financial Services and Technology and Media & Telecommunications sectors. Prior to Deloitte, Kim spent 3 years at Accenture focused on sourcing strategies, platform integration, and software implementations at companies including Cisco, PayPal, and AT&T. Additionally, she has worked for technology startups related to mobile device usability, social networking clients, and search engine optimization and marketing.
Kim's experiences in Africa include the creation of Power Up (an MIT-sponsored mobile charging venture in Nairobi), logistics development for a biogas generation scheme in rural Kenya through the United Nations Development Program (UNDP), and education development at the Amy Biehl foundation in Cape Town, South Africa, which included a brunch with Desmond Tutu.
Kim received her MBA from the MIT Sloan School of Management with a focus on technology strategy and organizational change and a BS in Management Science & Engineering from Stanford University.