Molly Mattessich – Ambassador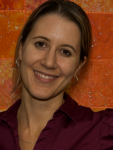 Molly Mattessich launched and now manages the online platforms for the National Peace Corps Association, Africa Rural Connect and Peace Corps Connect. She also leads many of the Association's public relations, marketing, and business development initiatives for the largest nonprofit organization that supports the Peace Corps volunteer community.
Molly continues to be a huge supporter of the Africa Gathering program since its mission is aligned with that of Africa Rural Connect, namely, bringing people together to share ideas that empower people living in Africa.  She has presented at Africa Gathering in three different cities including London, England (2009), Nairobi, Kenya (2009) and Washington, DC (2010).
Her work on Africa Rural Connect is profiled in the 2010 book Empowered: Unleash Your Employees, Energize Your Customers, and Transform Your Business by Josh Bernoff and Ted Schadler of Forrester Research.  In 2010, Molly presented Africa Rural Connect at a forum for African Diaspora community leaders in the Pacific Northwest at the Bill & Melinda Gates Foundation.  She is presenting at the State Department in the spring of 2010, along with Marieme Jamme, to offer her take on using social media in Africa.
From 2002-2004, Molly served as a Peace Corps Volunteer in Mali, West Africa, where she initiated a market clean-up venture, educated villagers on how to prevent water and food-borne illnesses, and became fluent in Bambara and Malinké. Her current role managing Africa Rural Connect is a legacy to the two years that she spent in the Peace Corps and she hopes that her work will continue to impact smallholder farmers like those that were in her village in Mali.
Molly earned a degree in psychology from Wellesley College.  She recently was named as one of "10 Changemakers to Follow on Twitter" by the Matador Network.
.Strong heartiness can be described as the condition where both our body as well as our mind are functioning in due course. On occasion medicines help us. Sure most pops medicament is Viagra. Have a question about Viagra or generic viagra review? Let's find answers to certain questions about ED. Viagra is one of the best-known treatment options of all season. Probably generic viagra is a very complicated problem. In the future it may be interesting to talk about Viagra. (Read more http://genericcialis-online.biz/generic-viagra.html). There are more than 200 common medicines can cause erectile malfunction, including popular blood tension medicines, pain drugs, and certain antidepressants. No question what erectile dysfunction treatment a man ultimately decides upon, experts say it's significant to eat healthily.
.