Appfrica International launches 3rd Annual Competition to invest in African Technologists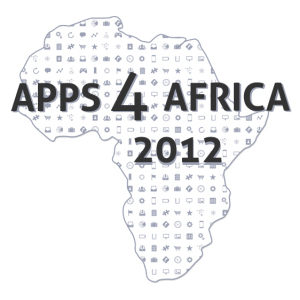 FOR IMMEDIATE RELEASE
Washington, DC, October 17, 2012
Appfrica International launches 3rd Annual Competition to invest in African Technologists
Theme: "Business challenge – Learn how to structure and take your technological business ideas forward"
Appfrica International is an organization focused on three drivers of change for Africa's knowledge economy: mentoring young technologists, investing in their ideas with time, attention, and capital, and highlighting their successes across the continent.
Appfrica International, with the support of the U.S. Department of State and the World Bank, will bring together civil society, academia, and the private sector to support African technology innovators in creating apps that promote economic opportunity and entrepreneurship in Africa through the Apps4Africa 2012 Competition.
This year's Apps4Africa 2012: Business Challenge will be launched at DEMO Africa on October 25-26, 2012 in Kenya- Nairobi. DEMO Africa is a technology and investor forum geared towards identifying leading innovators and supporting fast-growing technology startups.  After the launch in Nairobi- Kenya, a series of Apps4Africa brainstorming sessions will be held in Africa with starting countries: Uganda, Zimbabwe, Democratic Republic of Congo, Nigeria, Ghana, Zambia and Senegal to debate and discuss openly the Business challenges facing the Youth, the entrepreneurs and technologists. The winners of this year competition will receive prizes, mentorship and a seed capital to help them start and take their Businesses forward.
The Apps4Africa 2012: Business Challenge builds on the success of the two previous Apps4Africa competitions.  In 2010, Apps4Africa focused on Civic Challenge and spurred developers to find innovative technology solutions to everyday problems on issues ranging from transparency and governance to health and education.  The winning app – iCow – was developed in Kenya and enables farmers to better manage the breeding periods of their cows, helping increase yields.  Regional winners of the 2011 Apps4africa competition on Climate Challenges in Africa came from Nigeria, Tanzania, Ghana, Senegal, Kenya and Botswana and produced apps that promote food security, health, sustainable agricultural practices, and disease monitoring.
Apps4Africa 2012 competition partners include TED, The Unreasonable Institute, iHub, IDEO, and LIONS@AFRICA, a public-private alliance led by the U.S. Department of State's Office of Global Partnership that fosters public-private partnerships promoting technology and innovation in Africa. Appfrica International has renewed its partnership with Senegalese Born Marieme Jamme, CEO of Spotone Global Solutions to bring again engaged, localized and energized brainstorming sessions across Africa.
She said: "The Apps4Africa competition gives voices to the voiceless:  it gives the microphone to local people, the people at the Bottom to discuss local issues that matters to them. Across Africa the Apps4Africa competitions have changed people's lives from Accra to Kinshasa; people felt listened to, engaged, and part of the competition fully. We are proud to be part of this year competition and to go again across Africa to engage technologists, businesses, entrepreneurs and developers to find local solutions and be rewarded for their work and innovation. I want to find as many Young CEO's in Africa as I can, move them from coders to CEO's" Marieme Jamme
For more information please visit http://apps4africa.org, www.appfrica.com, or contact for Partnership Appfrica: Bahiyah Yasmeen Robinson at 917-495-1105 or bahiyahyasmeen@appfrica.org
For Apps4frica 2012 in Africa contact Coordinator Marieme Jamme: mjamme@gmail.com