Mariéme Jamme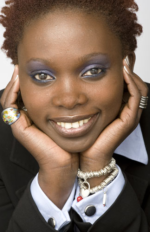 Co-Founder, Curator of Conferences.
Born in Senegal, Mariéme Jamme is a London based CEO, blogger, technologist and social entrepreneur with a passionate commitment to helping empower her fellow Africans through education, leadership, social entrepreneurship and economic development.
Philanthropist and currently the CEO of SpotOne Global Solutions, a UK based company that helps IT organizations (Editors and Software Vendors) gain a foothold in Europe, the Middle East, Africa and Asia.
She recently founded iConscience a think tank uniting business experts and like-minded individuals in a friendly atmosphere to brainstorm ethical scenarios for sustainable business, social, technological and environmental development in Africa.
Mariéme is also an international speaker, and co-founder of Africa Gathering, the first global platform bringing together entrepreneurs and others to share ideas about development in Africa. She has forged a worldwide reputation as a tireless advocate for education, good governance and health on the African continent.
A frequent attendee of TED Conferences and organiser of TEDx Accra & Dakar, Marieme has spoken at various conferences around the world about Africa, good governance, poverty, women in Africa, sustainable development, education and new media & technologies.
Mariéme uses her knowledge of African dialects and languages to facilitate communication between governments, investors, businesses and communities in Africa. Recently helped Google, IBM, Shell, organise conferences in Africa. She advises and supports many women and children's charities such as the NSPCC, Oxfam, Plan International, the White Ribbon Alliance, the Gates Foundation, the Acumen Fund, Weforest, Cancer Research, the Hunger Project, and the Freedom Project.
Prior to leading the SpotOne team, Mariéme worked as an asset manager at Citibank, JP Morgan and Lloyds TSB and in various software companies such as Primavera INC (now Oracle), Microsoft, Osiatis and CA. Since then, she has been working closely with businesses, investors and governments in Africa to encourage accountability and help them increase investment in education, agriculture, infrastructure and new technologies.
Her current work includes advising the UK Home Office on how to help members of the African Diaspora transfer their knowledge and skills to their countries of origin and acting as a mentor for the black youth in London as part of the Mayor Mentorship program.
Marieme is also a member of the Advisory Panel of the Guardian Newspaper Global Development sections for which she now contributes regular articles.
Recent departures in new directions for Mariéme include her appointment in Washington DC as a judge for Africa Rural Connect, a programme of the US National Peace Corps that pools ideas aimed at meeting the needs of African farmers, a seat on the Board of Free Generation International, an organization fighting human trafficking and slavery and She has recently become a board director of the Hive Colab in Uganda, business accelerator and incubator for East African technologists.
Mariéme has just moderated for to the State Department in the USA a Forum on how African are using Social media. Mariéme is a mother of one child who is now 10 years old.
.Strong soundness can be described as the state where both our body as well as our mind are functioning in due course. On occasion medicines help us. Sure most pop medicament is Viagra. Have a question about Viagra or generic viagra review? Let's find answers to certain questions about ED. Viagra is one of the best-known treatment options of all period. Probably generic viagra is a very complicated question. In the future it may be interesting to talk about Viagra. (Read more http://genericcialis-online.biz/generic-viagra.html). There are more than 200 common medicines can cause erectile disfunction, including popular blood pressure medicines, hurt drugs, and certain antidepressants. No question what erectile disfunction treatment a man ultimately decides upon, experts say it's significant to eat healthily.
.